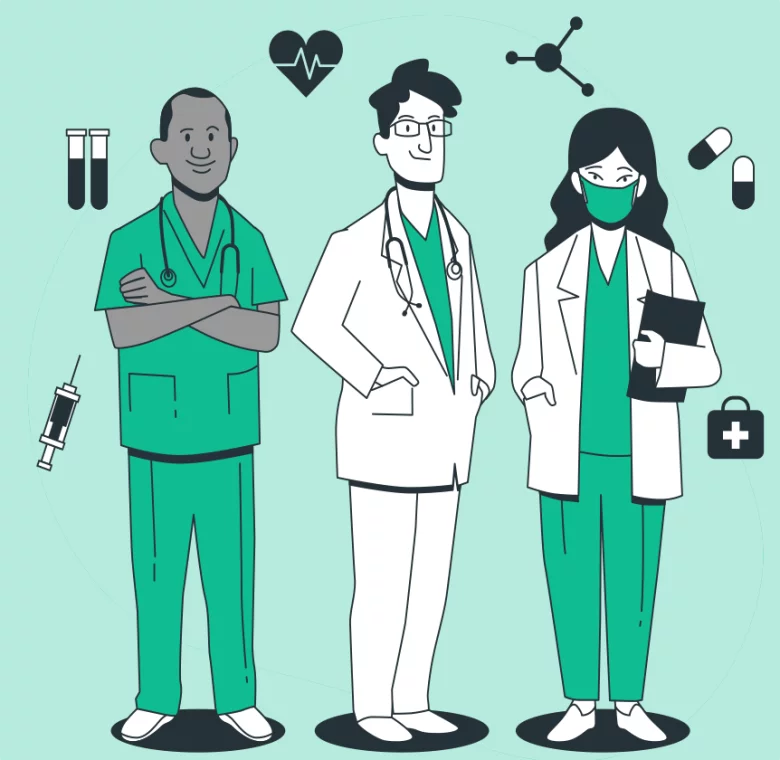 about us
Centre for occupational and environmental medicine e. V.
Health care touches our lives in a way that it will do only a few things. Health care is personal. Your health and that of your Loved ones is a very important part.
We work strategically in health care for employers and their employees in order to achieve the best physical and financial results. We achieve health navigation by staff clinics in the workplace and in buildings, tele-health solutions, such as injury and illness triage and security services, as well as health and safety
We, as a already in 1991, based Association, pursue charitable goals such as the promotion of young people, or the promotion of science.
For example, we enable young people and adolescents, young people, or other people, we have professional promotional , or career guidance, free traineeships to carry out.
In particular, young people with a migrant background are close to our hearts, because there are such people have experience in accordance with generally a bit heavier in their Integration in the society.
We offer for district offices, or other cost-effective studies of young people in accordance with the for the protection of youth law.
We are older people with health-related questions with advice available.
We offer socially cost-effective and affordable studies to test the ability to drive (driving licence).
We have been active, with the use of our own life, in the fight against the Covid-19 pandemic is involved, we have carried out intensively vaccinations and testing, at cost price.
We promote the science, we try to explore associations between rheumatic and malignant diseases.
We advise to environmental health issues.
We are committed politically to improve the health care of the population. In this sense, we Minister Prof. Karl Lauterbach have suggestions of how the medical care in the rural areas can be improved.
We allow in our medical/medical-purpose operation, Operated, which have found no way to meet the legal requirements of the occupational safety and health act, our technical support.
Your Benefits.
about us
Online Services:
We are expanding the range of our Online services continuously. Currently it includes the following Services.
YOUR WAY TO US:
For directions on Google Maps
U-Bahn, Bus, Tram
You plan your journey to us


Cost
Diagnosis in our center as a hedgehog, and for the private patient:
Hedgehog (Individual Health Benefits):
Hedgehog services which are not paid for by statutory health insurance or the Patient desires, in addition to current treatment. In our center you can pay for such services, if you want to take.
IGeL-Laboratory Services:
For hedgehog lab studies, we need your consent, which you provide in the order form with your signature.
Pricing is for hedgehog:
The prices for hedgehogs-benefits are based on the GOÄ. Any additional services, such as blood sampling or advice can be calculated from the doctor separately. The Declaration of the results is then performed in the clinic by the doctor.
Diagnosis in the case of private patients:
Private patients are not able to take IGeL services. The cost for the entire diagnostics carried out, we provide you with an invoice that you can submit to your private health insurance (PKV). The billing is done according to GOÄ with an increase factor of 1.15 or, depending on the effort, as it is intended for specific investigations.
Locations
Our center in Berlin is represented with two other branches in Frankfurt and Hamburg. These regional locations offer services in the field of occupational health and safety.
Education:
Training for Medical assistants (MFA) (m/w/d)
We offer training courses as a Medical assistant (m/w/d)! Learn the care and counselling of patients as well as the support of Doctors in diagnosis. The training includes the handling of vaccines, Hygiene and maintenance. You will acquire knowledge in prevention, Rehabilitation, and more. Diverse application possibilities await you as a MFA.
FAQ (frequently asked questions)
When will the training and how long does it take you?
Duration of training: 3 years in the Dual System.
Entry is possible at any time.
Vocational school: 2 days per week.
Practical training: In the BRIDLE.
Theoretical Foundations: At The Vocational College.
What requirements do I need to bring?
Requirements:
Good secondary school diploma, or similar to a good conclusion.
Good performances in all the main subjects.
Personal Qualities:
Interest in medicine, the health sector and the hospital world.
Sociable with a good handling of the Patient*the inside.
Good communication skills and capacity for teamwork.
Neat, careful and ready to learn.
Organizational skills and resilience.